Whatever the occasion is – whether it's a wedding, an anniversary, a birthday or a small reunion – a physical invitation card can help extend your warm welcome in a more personal way than a simple Facebook event. You can also play around with the design and express your inner artist through customisation. Here are a few design inspirations to get you started…
Kinfolk-Style Minimalism is always a fail-safe plan. Opt for simple, non-cursive fonts and a palette with a maximum of five colours.
Nature by the Border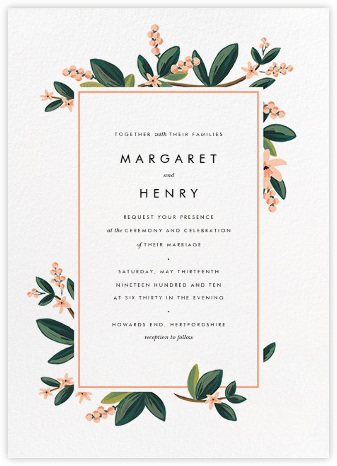 Illustrations and/or pictures of flowers, trees and leaves are guaranteed to make your invitations prettier.
Watercolour Background
Backgrounds don't always have to be solid. With watercolour effect, you can explore various gradations and opacity levels of the same colour tone.
Novelty Shapes
Challenge the conventions – try out different shapes, or put the invites in an unexpected format (e.g. movie tickets, passports, chocolate wrappings, or even vinyl discs!).
Pop Culture References
With pop culture references, the limit is the sky. You can create a replica of a Hogwarts letter, make a card shaped like Dr Who's telephone box, or design a front cover featuring your favourite Office character.
Pop-Up Cards
Have more budget and/or time? Make it an invitation to remember by investing in fold designs or laser cuts.